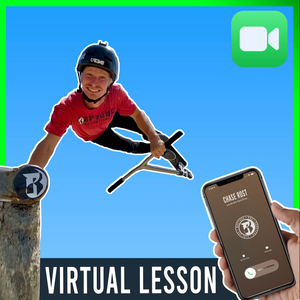 Virtual coaching lessons are the perfect way to progress from anywhere around the world.
Coached by Chase Rost, with over 14+ years of scootering experience. Chase has become one of the top Scooter coaches with a diverse experience in breaking down complicated tricks and techniques into small, easy to learn chunks. 
These lessons help new riders build up the core fundamentals they need to learn in order to progress. Chase provides the confidence and structure needed to excel at scootering.

These lessons are also perfect for more advanced riders looking for extra tips and tricks to accelerate their progression and work their way towards one day becoming a Pro rider.

 What will you need? 
1. Your scooter....... C'mon this is a scooter lessons, you got to have your scoot.
2. Your phone or a device you can chat on.
3. A charged phone. I don't want you hanging up on me right as you huck your first flair!
3. Tripod, Camera man, or water bottle to prop up your phone during our coaching session.
4. Helmet....... I don't think this needs any explanation.
5. Your "A" Game! this is a progression session. We are about to knock out some key techniques right now!
Virtual Scooter Lessons Options:
1. Facetime/Skype/instagram video chat/ messenger video chat - Definitely the best option for maximizing lessons.
2. Phone call/instagram call/ Messanger call - Camera Shy? No worries, we can still knock out so many helpful tips and tricks Via phone call. This option is also perfect for those who just wanna chat about scooters and hang out with me for a bit. (or for those surprise birthday calls) 
3. Text - Not up for a Facetime or a call? No worries, I got you. We can just text for your desired length of coaching session. You can take videos of yourself riding and message them to me and i'll send you video responses back. (keep in mind this will just be a slower process as there will be time delays in sending videos back and forth.) but besides that I'm all yours for how ever long you need.
HOW IT ALL WORKS!!!!
All you have to do is pick out your desired number of riders, length, and amount of lessons and then add them to your cart to check out. (P.s. this has made for some super cool B-day gifts.)
Then I will be reaching out to you Via Email or Phone to set up a date and time to schedule our couching lesson. 
Once scheduled, on the day of our lesson, I'll be calling you to live video chat. Helping you with as many scooter question as you can fire. Aswell i'll be giving you super helpful tips and tricks that he has learned from over the years that will help you knock out new tricks faster and easier. These calls can be performed while you are at the skatepark trying a new trick, in your room, or even in your driveway. 
A typical virtual coaching lesson range's between 15-45 mins once a week for about 3-5 weeks. I personally recommends a 30 min call lesson at least 5 times. This seems to be the golden spot for riders to excel (of course the more coaching sessions the more progression.)
Phone call structure:
We start out talking, so I can get to know you as a rider and how you shred.(for reoccurring lessons this time is occupied with recapping the progression from previous week talking about what worked and what you're  still stumped on.)
Then we dive into warm ups
After that we get into what tricks you are currently working on. You will learn helpful tips and techniques for each trick
Depending on length of call, we will explore other avenues that interest you, such as: "how to prepare for comps, how to stay motivated, how to prevent injury, how to get sponsored, how to manage social media. how to work on your scooter and so much more." If you have a question I probably has any answer for it after over 14 years of riding.
We recommend a longer call if you are really wanting to progress and dive into scooters.
Virtual lessons not your style? Check out my In person local lesson option: Local Lessons

Ok ok we get it, balling on a budget more your style?
Then WHO LIKES FREE? We highly recommend checking out Chase's "How To" playlist on his youtube channel. As this playlist has accrued over 1 million views, helping hundreds of thousands of riders learn how to scooter better. This playlist also is a great complement to physical scooter lesson as it helps you train at home before, during, and after lessons: How To Playlist
P.s. We still strongly encourage In Live and or in person lessons as they provide a more direct impact on a riders progression as I can critique and better help a rider step by step.
See you at the skatepark or on the phone at your skatepark I should say!