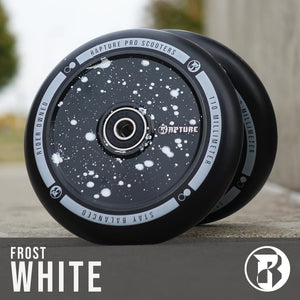 Everyone needs some color in their life!
If you like the OG Rapture Wheels, then you will love the brand new Limited Edition 110mm Hollow Core Splatter Wheels
Who doesn't like a smooth riding scooter? Refresh your ride with a set of new Rapture wheels.
Our wheels are lightweight, super gripy, and incredible at adsorbing impacts. 
Your wheels are the foundation to your ride.
The better your foundation; the more tricks you will learn and land.
It's physics friends...
Specifications:
Size: 110mm*24mm
PU: 88A
PU Color: Black
Core Color: Frost White
Core: CNC Aluminum Hollow Core
Bearings: ABEC 9
Weight: 220 grams with bearings installed
Includes (2) Wheels
• • •
The Greatest Side-Kick to Your Rapture Wheels:
Okay...okay
We know quality wheels are key to the foundation of your ride, but you still need a strong deck to keep that foundation is place.
Introducing the ergonomic Rapture Deck...
This structurally sound deck can do just about anything...
The only thing this deck can't do, is fly...
By itself that is...
That's why they need each other.
Once your Rapture Wheels team up with your new Rapture Deck...
Your ride will be so smooth, you will practically feel like you're flying.
• SPECIAL 40% OFF BUNDLE OFFER •
Order a set of Rapture Wheels with a Rapture Deck today, and you will recieve your Rapture Wheels for 40% OFF
Just use Code: SIDEKICK at checkout 
(Disclaimer: All wheels, including Rapture Pro Scooter wheels, need to be broken/worn in before attempting hard slamming impacts. The reason that 90% of wheels break in such a short amount of time is due to not properly wearing in your wheels. )